EXPLORING HOSPITALITY TRENDS
Posted on May 27, 2020
Travel and Tourism continues to be the fastest growing sectors in India. As per the World Travel and Tourism Council (WTTC) India ranks 8th globally in terms of contribution of travel & tourism to GDP. In 2018, the sector generated US$247.3 Bn, accounting for 9.2% of India's GDP and posted a YoY growth of 6.7%.
Being the largest market amongst other South Asian nations, it has been the key driver for growth of the sector in the region. Domestic travel spending generated 87% of the direct Travel & Tourism GDP in 2018. The leisure wallet also continued to dominate, accounting for 95% of the direct Travel & Tourism GDP of the country, much higher than the world average (78.5%).
Industry estimates forecast a CAGR of 6.7% for the coming decade and the Industry could reach INR 35 trillion by Cy29 and account for 9.6% of the GDP. The industry supports 43 million jobs in the country (8.1% of total employment). (Source: FICCI – India Inbound Tourism 2019)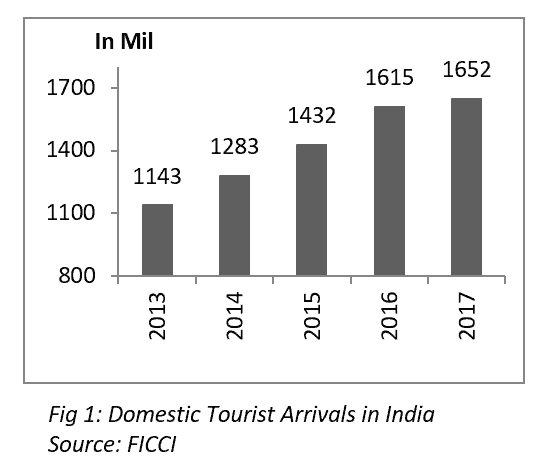 India offers a diverse portfolio of niche tourism products, including cruises; adventure; medical; wellness; sports; meetings, incentives, conventions, and exhibitions (MICE); eco-tourism; films; rural and religious tourism. India is also an important spiritual destination for both domestic and international travelers. Further, introduction of the medical visa (M-Visa) and e-Visa is expected to encourage foreign tourism in India
However, in comparison to advanced tourism economies like Greece, New Zealand, and Thailand, amongst others, in which the sector contributes to >15% of their GDP, India has enough headroom to scale up and increase tourisms' contribution to its GDP. Globally, tourism contributes to ~10.3% of the world GDP.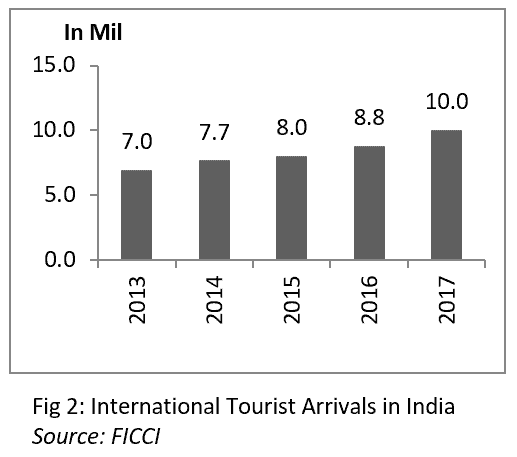 Considering the positioning of the per-capita income curve of India, its GDP size, changing demographics, the industry is poised interestingly. While the foreign tourist arrival numbers lend strong support for the growth of the sector, the domestic tourism segment is at the cusp of inflection (if one were to consider what happened in China in 2005) and that could propel the industry on to the next growth trajectory.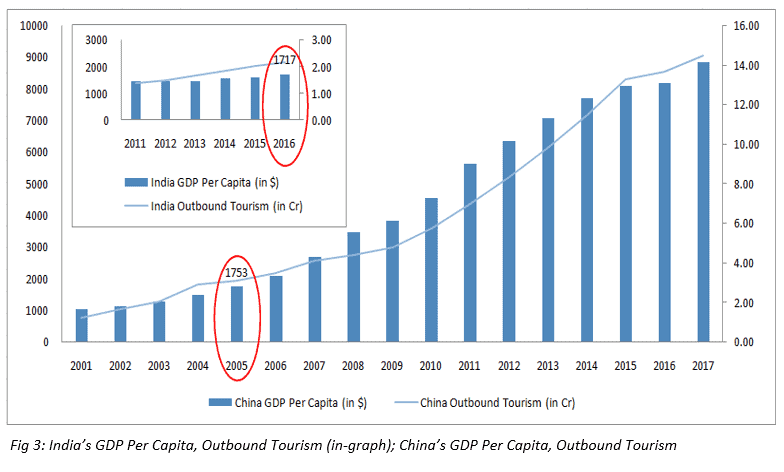 INDUSTRY OVERVIEW
Hospitality Sector in India:
The sector is a cyclical one and witnessed a strong uptrend during 2003-08. The topping out just before the global financial crisis and in the ensuing slowdown the sector underwent a gut bursting downturn.
From 2015-18, the industry weathered adverse situations and started posting consistent growth. With deleveraging being the focus, there was moderation in investments throughout the industry and as a result cash discipline improved. In 2018, the industry achieved the highest occupancy levels at 65.3%; highest Average daily rate (ADR) since 2012 at INR 5,920; RevPAR for Mumbai, Hyderabad, Pune and Jaipur at a 10-year high; RevPAR for Ahmedabad, Bengaluru and Delhi highest since 2010, 2011 and 2012, respectively.
Cyclicality in the Indian Hotel Industry:

Demand Drivers: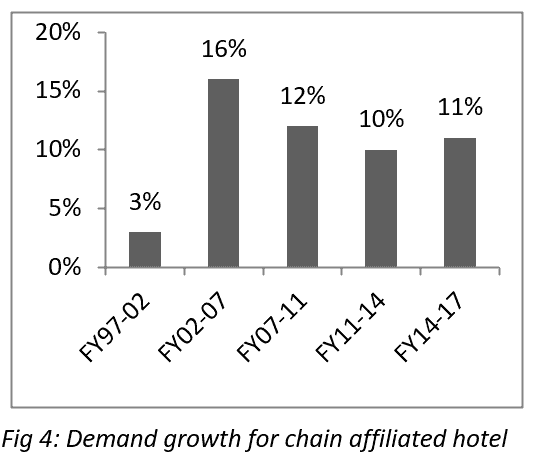 The demand segmentation of the Industry can be broadly classified as:
penetration Business Travellers / MICE – Business Travel accounts for ~ 71% of demand of the hotel chains and has high correlation with the economic activity across the country. The short duration consumer is usually time-conscious and price-insensitive i.e. ready to pay a higher price in exchange for flexibility of being able to book a room at the last minute. The mid-to-long-term duration travellers are mostly there to work on a project and may or may not be price sensitive depending on how their trip was planned.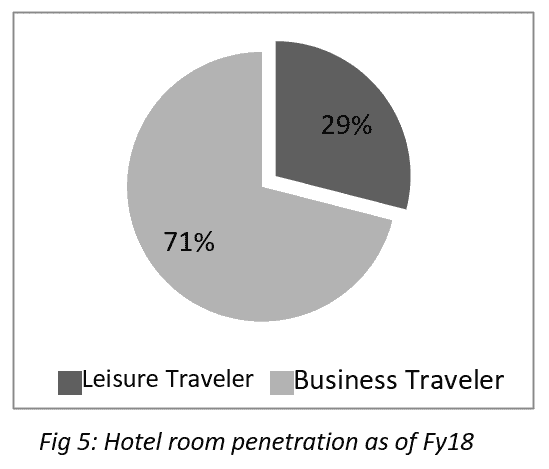 Leisure Traveler – Currently, leisure demand accounts for ~29% of the total room demand and is expected to grow at a CAGR of 8.7% over 2019-23. These are either foreign or domestic travelers whose primary purpose of visit is holiday or sightseeing. Among non-business foreign tourists, the primary motivation for visiting India is largely cultural attraction followed by conferences and conventions, tourist attractions like beaches, wildlife, hill resorts, etc. Majority of these travelers are domestic travelers and with a growing economy and rising income levels, the number of such travelers is increasing. With the entry of online travel agents (OTAs) it has become easier and cheaper to manage and book travel schedules.
Airline Cabin Crew – Airline cabin crew forms another important segment because of the repetitive and predictable nature of the business that they provide. Usually, these are a part of an annual contract whereby, in return for a fixed rate, a certain number of rooms are provided on demand for cabin crews with discount rates in the range of 40% and 50%.
Weddings and Social travels – India's wedding tourism industry and destination weddings have been growing at 25% over the last few years. The industry size was estimated at INR290b in 2017 and is expected to be INR450b by 2020. Rising middle-class population, the NRI connect, celebrity endorsements and high degree of personalization are the key drivers of the wedding tourism industry. Industry Supply in India:
The Indian hotel market is comparatively under-penetrated. The industry has seen supply grow at 9.8% CAGR for 20 years till Fy17. It is further expected to grow at a pace of 6.9% CAGR Fy17-22.

In 2018, the industry reported an addition of 8200 rooms. Midscale and upscale segments witnessed the largest growth in the industry. Average inventory per hotel as of February 2019 was only 73 rooms. Excluding Lux-Upper scale hotels, the average inventory is only 64 rooms. Just 19% of total supply is for the leisure segment compared to 17% in 2014.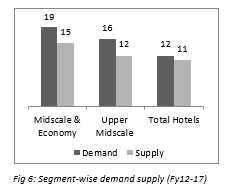 Going forward, we can expect inventory creation to be slow with fewer projects being undertaken especially in the luxury-upper upscale and the focus being in the midscale economy. Several of the new projects that have been undertaken will be completed by Fy21 or later.

Reducing Demand-Supply Gap:
The hotel industry primarily relies on four levers: supply, demand, occupancy, and ARRs. The industry as a whole saw a down cycle – lower demand, occupancy and ultimately ARRs – during Fy08-13 due to the economic slowdown led by various domestic and international factors. It however, started to see an up-cycle – demand outpacing supply, higher occupancy and ultimately higher ARRs – post this period driven by higher disposable incomes and thus higher discretionary spending, ease in booking and travelling and a surge in MICE and domestic travelers.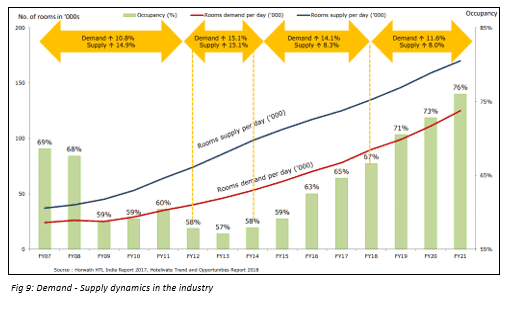 Industry Overview: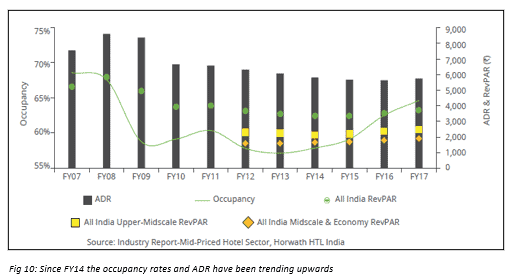 Fy19 also saw a slowdown because of a moderation in consumption and high air ticket prices, but this is expected to recover by the second half of Fy20 with favorable market conditions coming into play. As per Horwath study, demand is expected to grow ahead of supply through Fy21, but a disruption on either side could negatively impact the sector.
The industry is focusing on expanding operations through the management contract route and increasing capital efficiency. It is also going through a cycle in which companies are now deleveraging and reducing capex.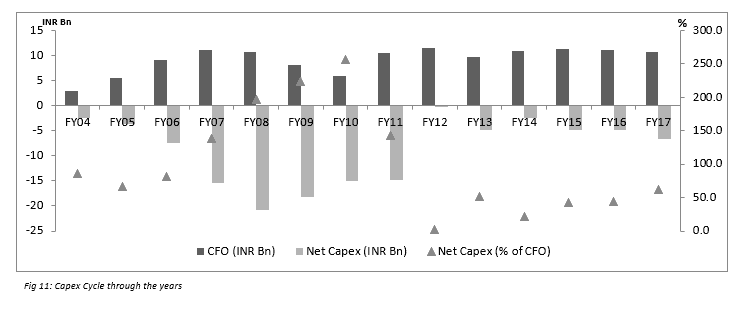 Future Trends and Opportunities in India:
Shifting Towards Asset Light model: Budget and midscale hotels are increasingly adopting leasing/management contracts models to exhibit high growth. Traditionally, under these models, the developer (lessor) undertakes the development risk while the operating risk is borne by the operator (lessee). These models result in superior operating and financial performance for hotel operators.

Online Travel Market: India's e-commerce market was worth $2.5 Bn in 2009 and scaled up to $24 Bn in 2017. The online travel market was predominantly known for Air and Rail ticketing and these constitute ~75% of the market. However, with the entry of global travel brands, mixed with a tech-savvy consumers and new hotel openings by various national and international brands at different domestic locations, online hotel bookings have emerged as a prospective opportunity for both online travel companies and hoteliers.

Foreign Investments: The tourism and hospitality sector are among the top 10 sectors in India to attract the highest Foreign Direct Investment (FDI). During the period Apr'00-Jun'18, the hotel and tourism sector attracted around $11.39 Bn of FDI (as per DIPP). Hotel transaction volumes could cross $800 Mn in 2019, the highest for the industry.

Service Apartment/ Student Hostels: These offer short-term or long-term stay and provide all the luxuries of a premium hotel, and yet giving a home-like feeling at the same time. Global funds and local developers such as Warburg Pincus, Sequoia Capital, Goldman Sachs, and Shearwater Ventures are either invested or have firmed up plans to invest in this space. Student accommodation across India is expected to reach 13 million beds over the next five years from 8 million at present.

Foreign Tourist Arrivals: Historically, tourism footfall and spending in India has been driven by domestic travellers. Over the past few years, the government has increased its focus on attracting more foreign tourists through various campaigns, allowing 100% FDI in the sector and introducing E-visa to 166 countries. The Indian government has also taken up key initiatives like increase the number of airports (both domestic and international), improving the conditions and functionality of railways and ports. As of 2017, India only accounted for 0.76% of the world tourist arrivals. The government has set a target of increasing the share to 1% by 2020 and 2% by 2025.

Standardisation can no longer be the norm: It is becoming critical to personalise and tailor services to the needs and preferences of travellers. Technology will be at the core of the hotel experience both in rooms, and before and after the trip. This will lead to the development of new concepts and more innovation in the industry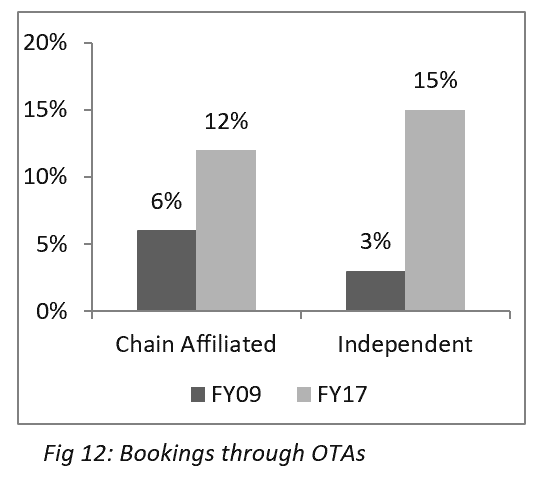 Online Hotel Aggregators – Market Disruptors
The Indian hotel industry is witnessing a growth in technology driven start-ups. Each start up with its own niche has had a complementing influence on the industry by increasing occupancy while providing a gamut of choices; however, they have also caused disruption to the traditional businesses in certain ways. With almost half of India's working age demographic being tech-friendly millennials' (71% use smart phones for online bookings), who seek personalized experiences at the right price; the industry is expected to grow at a CAGR of 14.8% to INR 2,625.7 Bn.
Online hotel aggregators follow an asset light model i.e. by either taking the property on lease or operating it as a franchise using its brand name and standardizing all the unbranded hotels under its name. This leads to uniformity in the services provided and assures quality to consumer. Most of their portfolio is comprised of low to mid segment hotels. The asset light model allows the aggregators to rapidly increase their inventory. For example, in the case of OYO rooms (lease & franchise model), which started off with a single hotel in May 2013 now operates a portfolio of over 18,000 properties across 10 countries.
This is a growing threat to traditional businesses unless they invest in digital technologies and platforms, while also strengthening their brick and mortar portfolio. Traditional business also will have to enhance their pre-booking as well as post-booking capabilities to ensure customer satisfaction and retention. They may also have to turn to inorganic growth to remain operational in this highly competitive market.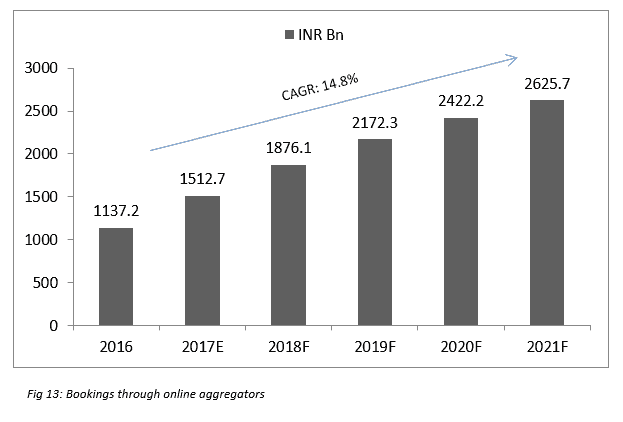 With Travel and Tourism being one of the fastest growing industries in India, we at PINC extend financial advisory services to various travel and tourism businesses. We deliver our expertise in mid-market Investment Banking advisory, Institutional securities trading, and private wealth management services. We put in meticulous efforts and professional integrity in every financial service we provide.